My current car is a 1989 Audi 200 Turbo Quattro
I really like it. It pretty much represents the perfect car for my every day driving needs:
<![if !supportLists]>a) <![endif]>It has all wheel drive, an absolute MUST in Calgary, where winter comes sometimes during summer just for shits and giggles and you wake up to 70cm of snow in April J
<![if !supportLists]>b) <![endif]>It has a nice inline 5 turbo engine which not only sounds beautiful, but in stock trim is rather peppy
<![if !supportLists]>c) <![endif]>It's extremely reliable
<![if !supportLists]>d) <![endif]>It's good on gas if you are off boost J
<![if !supportLists]>e) <![endif]>I think it looks good ;)
<![if !supportLists]>f) <![endif]>Its practical, with four doors, and a nice big trunk to boot, its amazing how many dead bodies I can stuff in there!
Name another car where you get electrical seats with memory, onboard computer, power EVERYTHING, air conditioning that actually works, good heat in winter plus the heated seats, just a wonderful car all around – for 700 canadian?
That's right folks – I got this wonderful car for 700 bucks J Muahahaha
<![if !vml]>
<![endif]>
Whe she looked like the day I got her.
My plans, with this car, aren't as over the top as my Crown Vic plans were, this one seems a lot simpler to accomplish what I want with.
Already, I've upgrade the brakes to nice Brembos all the way around and pretty decent metallic Mintex pads – I like em, it's got pretty good stopping power now.
I've fixed a few minor issues, and I need to fix a few more, but none of these issues pertain to anything super important, so I can still drive it to work every day. The rear diff is leaking a bit, I've ordered the bits to fix it, and the lube to stuff in it, so no biggie there, also I've got a loose tach connection to my oil pressure unit, or a faulty sensor (replacing both) soon.
Also, I'm probably replacing the O2 sensor and the knock sensors soon, in a car this old, it's a good idea – along with that – Timing belt and Water pump are next J
Future plans, which are already under way, are K24 turbo (already have it) – NF head (already have it, but I'm in no rush to put it on yet), boost spring 1.9 bar from SJM, maybe a new wastegate diaphragm while i'm in there J - I've got a chipped ECU coming in, that I'll run on until I get Nate (the natrix) to program my Mac-11C ECU for me.
I've already gotten a 60mm no cat, no bullshit exhaust with a single 3" resonator – its pretty loud, but in a good way ;)
I've put nice black wheels on J They were free! Yay ;)
<![if !vml]>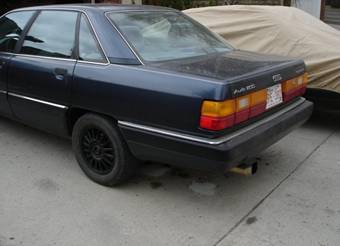 <![endif]><![if !vml]>
<![endif]>                   
Purdy, huh? Oh, and not shown in these pictures is my new tail lights, all red J Also I'm getting nice clear fronts for that ricey euro look that I like so much … (seriously though, the euro lights are a giillion times better than the north American ones)
That's it for now, I'll try and update more later.
J